On 27th December, Wuhan KOTEI Infomatics Co., Ltd (KOTEI) formally announced the strategic cooperation with Renesas Electronics Corporation (Renesas) .
Based on the principle of complementary advantages, mutual benefit, long-term cooperation and joint development, KOTEI and Renesas will conduct in-depth cooperation in the fields of infotainment, smart cockpit, autonomous driving and IoV, Using the Renesas R-Car platform, the companies will jointly develop solutions and services that better meet the needs of the Chinese market and industry. Leveraging their technological advantages and strong customer base through an effective technology alliance, KOTEI and Renesas aim to promote innovation in the automotive industry.
As a global leading supplier of semiconductor solutions, Renesas delivers trusted embedded design innovation with complete semiconductor solutions that enable billions of connected, intelligent devices to enhance the way people work and live. With its highly-reliable advanced automotive SoCs (system-on-chips) and microcontrollers, Renesas provides customers around the globe with professional and trusted innovative embedded designs and complete automotive solutions.
As an excellent intelligent car integrated software supplier in China, KOTEI is closely surrounding the IoV and autonomous driving, and actively develops core technologies with forward-looking and leading edge to provide customers with high value-added software development services and solutions. After more than ten years of development, the business has spread globally and has become a trusted partner of many car makers and automotive electronic suppliers.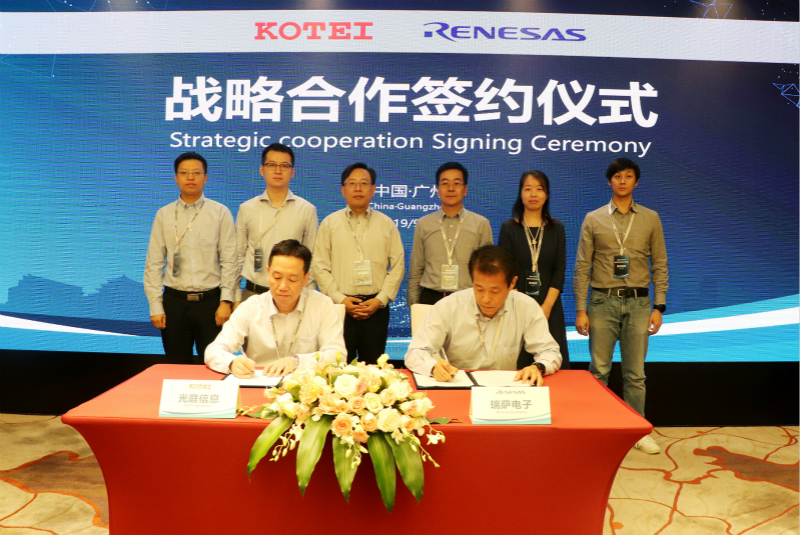 Since 2016, Renesas and KOTEI have been working closely in the field of smart cockpits. Using the powerful data processing capabilities, scalability and ISO 26262-certified functional & safety and security of the Renesas R-Car H3/ R-Car M3 platform, the companies worked to deliver customized total solution for the development of next-generation smart cockpits. Now KOTEI perfectly combines the high product performance of Renesas R-Car with QNX Hypervisor 2.0 technology. KOTEI named it as KOTEI Smart Cockpit Solution (KSC), which realizes multi-core multi-system, one-core multi-screen operation, focusing on create a safer, more comfortable and more personalized experience of smart cockpit.
Naoki Yoshida, Vice President of Automotive Technical Customer Engagement at Renesas said "We are very pleased team with KOTEI on a strategic cooperation. Looking ahead, I am confident that Renesas' R-Car platform, combined with KOTEI's solutions and services, will bring innovative value to our customers."
In the future, KOTEI will make full use of their respective resource advantages, based on R-Car platform software innovation and technology alliance, to provide mature solutions and professional teams to help car makers and automotive electronic suppliers achieve efficient technology upgrades and shorten time to market. To give the car a new and intelligent experience.